ShapeGrid - PressKit
[Español]
Download Full Presskit
Thanks for your extra interest in ShapeGrid. If you need any additional information missing in this page, let me know and I'll make it available.
Description
Think ahead!
ShapeGrid is a casual puzzle game. Find your way through tiles of different shapes and colors. You can only move on tiles that share at least one of those two properties with you. Once you move to a new tile, you morph into the color and shape of it.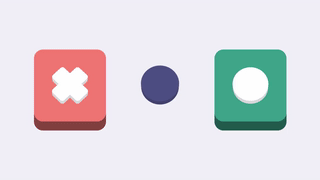 Get challenged!
The Puzzles will teach you the basic mechanics and test your abilities. Each of the four worlds will introduce a new mechanic for you to master before you progress to the next one. There will be a free update with a new world after the release!
In Endless you'll get a random board each time. You have to plan every move to prevent getting blocked while trying to get a new high score. Compete against other players and get to the top of the leaderboard!
Accessibility options
Shapegrid is a game that relies on combining shapes and colors. This could be challenging for color-blind people. Because of if, you can choose four different themes in the settings menu.